Check California Prevailing Wage Rates Now
Contractors are required to pay the Prevailing Wage rate to those working on public works projects (projects built using public funds and/or public consideration). The Prevailing Wage is determined by the classification for the work performed by each individual. Prevailing Wage Classifications and related Prevailing Wage Rates are set forth in semi-annual and annual bulletins published by the Director of Industrial Relations ("DIR").
Proper Wage Rates
The proper prevailing wage rate for the work performed in the State of California is considered the minimum wage payable on that project. It is the only legal wage that may be paid for work in execution of a public work contract. The current list of Prevailing Wage Rate for the State of California can be found at State of California Prevailing Wage Rates.
Overtime and Travel Time
In addition to the required straight-time hourly rate of pay, the term 'prevailing wage' includes a designated rate for overtime and holiday work, travel time and subsistence pay (Cal. Code of Regulations § 16000). All such rates are published semi-annually by the California Department of Industrial Relations ("DIR") pursuant to pertinent California regulations.
Calculating Prevailing Wage Rates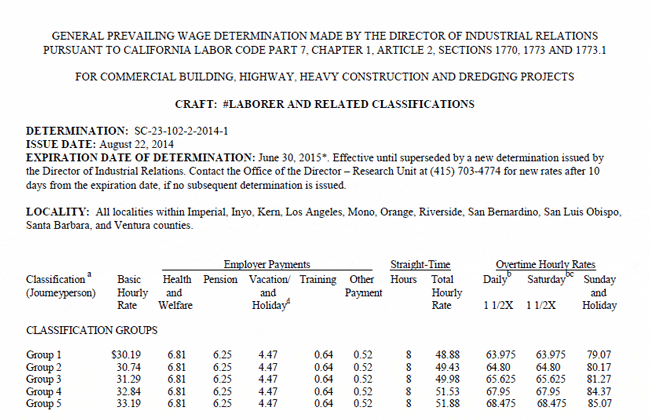 Experts on Prevailing Wage
For assistance in understanding if you are being paid the proper prevailing wage rate please call Donahoo & Associates, PC at 714-953-1010 for a confidential and personal consultation.